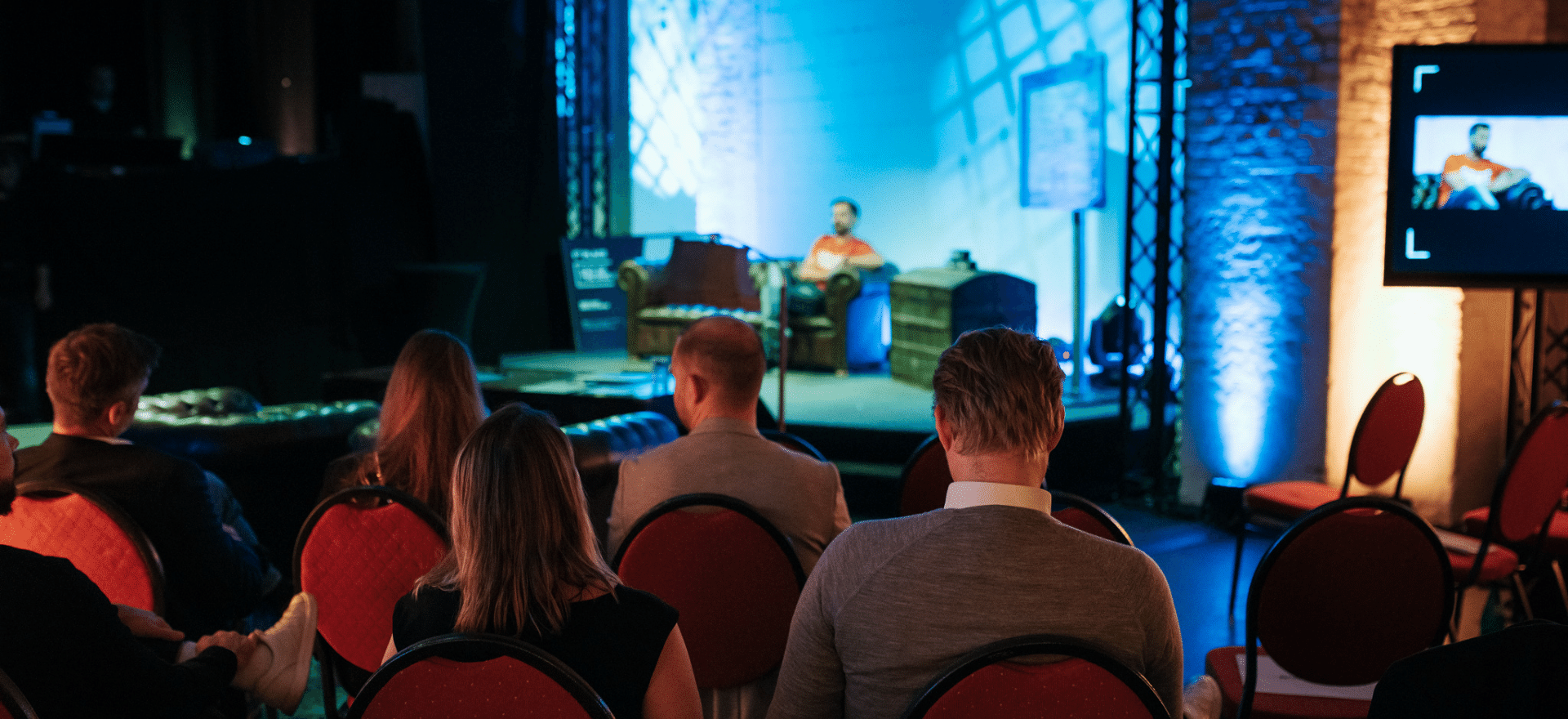 Inclusive Events: What #KeepFestivalsHybrid Really Means
Late last year, author Penny Batchelor and publisher Clare Christian launched the #KeepFestivalsHybrid initiative, a call to action for literary festivals to continue offering online attendance for book events to accommodate those with disabilities, chronic illnesses, who just couldn't pay to attend or were excluded from participating due to social anxiety. The campaigners argued a return to the pre-Covid business model of events without digital attendance options would disrupt the flourishing participation of those for whom online events were their only choice to participate.
Initially targeted toward the book publishing world, their message (renewed this week) of inclusion and openness to all attendees is fundamental for any event organizer. Accommodating attendee differences and accessibility limitations has always been part of the event organizer calculus– but the growth of digital events during the pandemic showed how much more work could be done. 
Inclusion is a key business imperative for brands and the events that transport them to new audiences and target groups, especially those from Generation Z. It is important for organizers to be aligned with those objectives in their own work– and to develop event concepts that facilitate inclusion in the events we produce. It also requires organizers and agencies to work with our clients to help them understand how accessibility fits into their event concept. And to act– to remove barriers to inclusion before they become limitations on accessibility (or liabilities).

Inclusive events will look different depending on each concept and audience. What works for a book festival may be different for a business conference. And just because an event is "hybrid" it doesn't always mean it is inclusive. But let's ensure the renewed call to #KeepFestivalsHybrid is more than a starting point for conversation– but one of action.

What are some of the ways you're working to make your events more inclusive in 2023? How have you incorporated greater accessibility into your events, virtual and in person?

Here's what I've been catching up on this week:

Understanding & incorporating inclusion:
The Drum
Ditch The VIP Wristbands, Young Adults Demand Inclusive Experiences | The Drum
Exclusivity used to be a key defining characteristic of events over the past decade, with organizers carefully curating attendee lists and creating a marketing machine that emphasizes FOMO. That same approach might doom your events in the next decade, according to this data-driven analysis by Twitch examining their user behavior. For those that have "only ever known a digital world" VIP experiences lose their hype and relatability, for 
Courier Journal
Try these 4 tips to help you make your fall, holiday events more inclusive
Hosting a fall community event? Here are some ways to easily make your event more accessible to a wider audience, by being intentional with your advertising and making spaces for those that may be overwhelmed by sensory overload from crowds, noise and lighting effects. 
Inklusion
Introduction — Inklusion
A comprehensive guide designed for bookseller events, but many handy hints and suggestions applicable for lots of other events as well. 
The latest from the event industry:
Publishing Perspectives
Frankfurter Buchmesse 2022: 180,000 Trade and Public Visitors
The International Frankfurt Book Fair ended this week with impressive numbers, 93,000 trade visitors as compared to 36,000 in 2021– sending a strong signal for the return to on-site events. While held largely on location, the event made several strong commitments to accessibility and inclusion, including a digital trade program, a special International Translation Center stage to accommodate international visitors (participants from more than 100 nations attended), and the participation of an "awareness team" comprised of members of the Alliance for Antidiscrimination and Education to support visitors should they need support. 
Exhibition News
Easyfairs revenues rebound close to pre-Covid levels
Easyfairs, the global event organizer and venue provider reports a positive rebound in revenue from the pandemic years and the announcement of 19 new events. The new events are largely the product of "geocloning" existing event concepts and bringing them to new markets, further highlighting the growth of satellite events as a fundamental part of the event landscape. 
Yahoo
An Outdoor Trade Show Remakes Itself by Letting Consumers In
How a new approach to inclusion has radically changed the Big Gear Show for the better. The trade industry event for outdoor products has opened its doors to consumers in an effort to embrace both business retailers and the end users of the products on show. The format change aims to address the changing buying habits of suppliers that challenged the event's return after the pandemic and demonstrate how organizers have sought to boldly reformat their event to make it more accessible to all. 
Conference News
New Intent partners with ICCA and ABPCO | Conference News
This week it was announced that New Intent, a pro-social organization has teamed up with ICCA UK&I and the Association of British Professional Conference Organisers) in an effort to further advance diversity, equity and inclusion (DEI) in the business events industry. Their first effort aims to create a survey for suppliers and organizers to better understand where the industry is on DEI objectives. 
Tech Wire Asia
As Tech Week Singapore attracts thousands, are virtual events still relevant? Many in the industry look to Asia to spot some of the next big trends when it comes to events. This year, the region has doubled down on large expos and fairs, fully embracing the return to the physical event format. It leads some to question the viability of digital formats moving forward, after their prevalence during the pandemic. 
Digital Event Technology:
MarTech Cube
SyncWords Launches Live Captions and Subtitles in 40+ languages
One of the most important facets of inclusion? Event content that is understandable by your attendees, no matter their background. A new feature by syncwords offers live captioning and subtitle capability for 40 languages, in what may be a game-changer for event organizers. The functionality helps organizers connect with a larger global audience for their events and improve accessibility. 
Ost Hessen News
Virtuelle Ausbildungsplattform weiter online: Ergänzung zur Präsenz-Messe – Osthessen|News
A novel hybrid event concept at this recent marketplace training fair in Germany shows the benefits of an inclusive hybrid events model. The training fair for young people joining the workforce offered two complementary attendance possibilities– onsite and online. Organizers note that the attendance figures at the digital event, rising rapidly before the onsite event took place, allowed participants to get a better understanding of the employers on offer, and allow them to be more strategic with their time at the event. The online portion of the fair remains open, allowing digital visitors the chance to connect with suppliers after the conclusion of the onsite event. 
Martech Cube
InfinyOn raises a $5M round of seed funding
Despite the recent downturn, it appears VC funding into the events sector isn't quite over. The latest funding announcements for the event sector give an indication of where the industry is going next. This week InfinyOn, a live events streaming platform announces a new investment to grow the business and bring event streaming to a wider market. 
Cision PR Newswire
Virtual Events Could Be Hurting Your Brand, According to New Study From Airmeet Curiously, a survey sponsored by an event technology company finds that virtual events could be "hurting your brand". Responses from a selection of top CEOs and CMOs suggest that poorly conceived and actualized virtual events can give your brand a battering. The way forward? The right technology and concept, according to the research. 
Event Partner
Erfolgsmessung bei Events mittels Emotion Tracking
Moving beyond the surveys, or analytics of digital platforms, Sophie Schumann investigates the opportunity for emotion tracking in her master's thesis in event marketing. She finds a number of valuable opportunities for organizers to realize the potential and impact of their events and suggests a new way forward for capturing the impact of event content. 
Minding the Metaverse:
Mezha.Media
"We need an eight-story metaverse with a car park and a museum," interview with Party.Space CEO Yurii Filipchuk
Mezha media interviews Yurii Filipchuk, CEO of Party.Space, a metaverse platform specifically designed for corporate events, meetings, and gatherings. Party.Space, despite the name, has already become an important avenue for corporate clients looking to host bespoke experiences for internal and customer events, in a creative and intuitive environment. The interview explores what the metaverse is now and what it aims to be, as well as the realities of hosting corporate events in "the metaverse" and how to avoid the hype cycle. 
Wrkr
Ozzfest to Return as a Virtual Event for Metaverse Festival
What if your event is no longer accessible for your headline act? Online alternatives might be the right answer. This fall, Ozzy Ozbourne, brings his namesake Ozzfest to Decentraland, as the performer's ongoing battle with Parkinsons limits his ability to tour. 
Harvard Business Review
Designing an Inclusive Metaverse
The promise of an inclusive metaverse is exciting, but will need careful attention to overcome the limitations of social media and the mistakes of Web 2.0. Bringing about this reality will need an accessible design to make sure it works.  
CNBC
Meta and Microsoft can't self-regulate their metaverses, UK regulator warns
In an unsurprising and expected move, the UK's Ofcom authorities announce that metaverse provider platforms such as Meta and Microsoft will be subject to operating regulations. What those regulations may be remains yet to be realized, but robust safety and consumer protection protocols will need to be in place before metaverse events find wide-scale adoption. 
Event Partner
Ein Tag im Metaverse
In the metaverse, any dream could become reality, needing only the imagination to realize it. We still see considerable interest in metaverse experiences moving forward into 2023, but the realization of them requires considerable thought and care. Crafting an event in the metaverse necessitates a different timeline and a different approach and skillset for the event organizer. Each of these is well worth it to build the experiences for tomorrow. 
Closing thoughts
That's it for this week's edition of The Lookout! 
If you know someone who might be interested in reading The Lookout, please share it with them! 
The Lookout Newsletter #70

Written by:
Felix Josephi
PIRATEx Managing Director