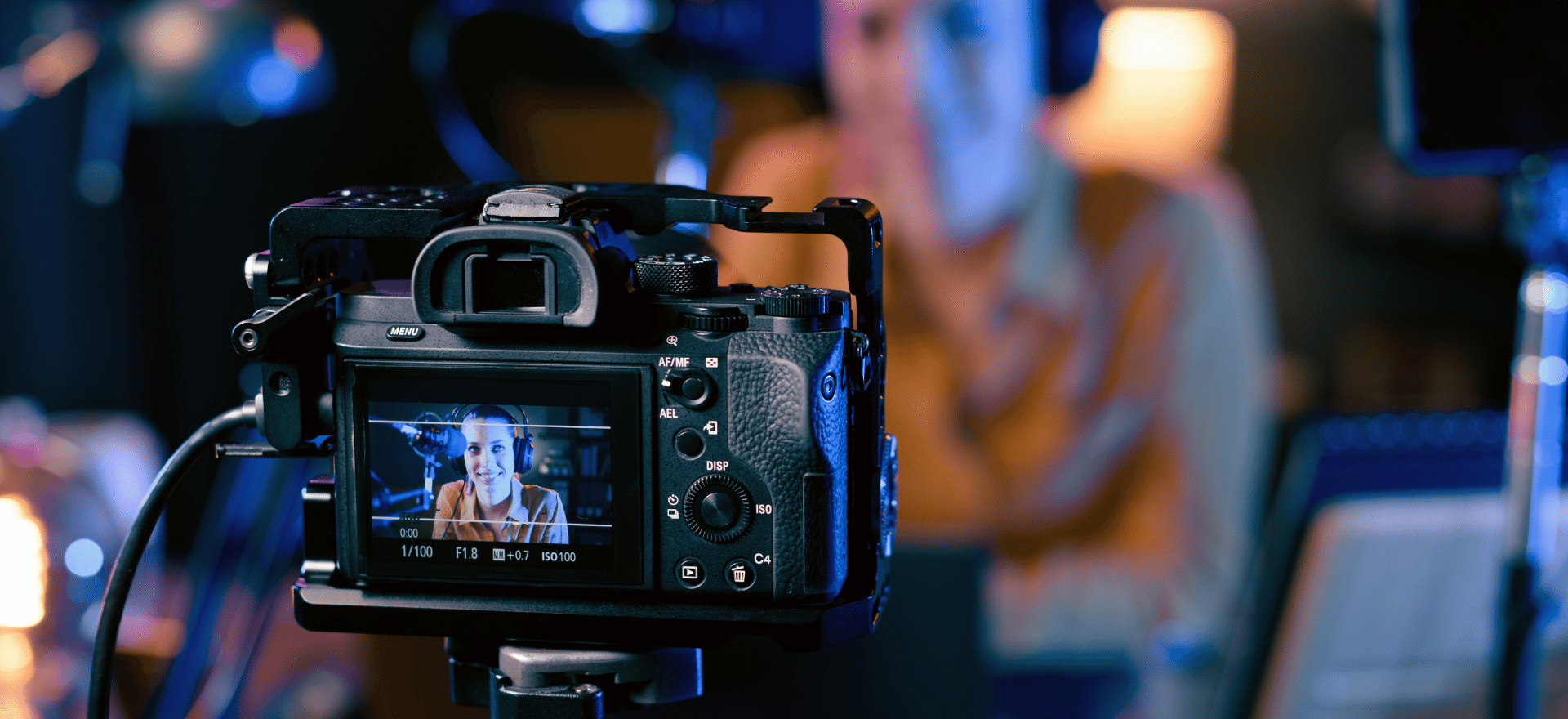 How To Hold a Successful Presentation at an Online Event
The Corona pandemic created a shockwave for the event industry. Event organizers had to develop new approaches and new concepts in order to hold events. And engaging an online audience requires a few adaptations for those used to speaking on stage.  Instead of looking into curious faces during their presentation, speakers at digital events largely need to perform without the direct reactions of the audience, the applause, and the atmosphere they are used to. 
But that doesn't mean that it's not possible to deliver an engaging talk at an online event or conference. With a little preparation, anyone can learn to deliver a talk or keynote to an online audience effectively and with flair.
Here are our 6 tips that can help you make your online presentation a complete success.
1- Preparation is the key to success –and it's not just your speech
Seasoned presenters will know the importance of preparing and practicing the content for their presentations well in advance. When delivering a talk in person, the better prepared you are to deliver your talk, the more effective you will be on stage. But there is one additional element speakers should prepare for when delivering to an online audience– your technical setup. One of the most common mistakes is not starting on the pre-event checks early enough, resulting in problems during the presentation that could have been avoided. Work with the conference organizer to familiarize yourself with the software or the event platform they are using, and how to navigate the controls you will have access to. Ensure you do a final tech check at least 15 minutes before your presentation starts. Use this opportunity to clarify all your remaining questions. Also, make sure you have a glass of water handy so that you don't have to deal with a dry mouth in case of a long presentation.
2- Perform a thorough tech check before your presentation
In order to present successfully at a digital event, it is important to make sure that you and your message are captured clearly and effectively on screen and through the microphone. No matter how well you've prepared your talk, the impact will be diminished if your presentation is plagued by lags or delays. Breaks in your presentation could come from several technical faults, such as an unstable internet connection, poor microphone capture, or a low-resolution webcam. You can troubleshoot each of these in advance to ensure you have the best chance of being captured clearly. For your internet connection, it helps to test the connection in advance at the same time and day of the week that you will be giving your talk. The quality of your connection may be very different at noon as compared to 6pm when many people will be home from work and may be using it. If you're experiencing a weak connection, you can improve this by connecting directly to the Ethernet or internet router, rather than using Wi-Fi. Ask those that may be using the Wi-Fi in your residence to limit their activity to browsing (rather than downloading or online gaming) during your presentation to ensure you have the greatest stability.
You will also want to test both your microphone and camera in advance. It is best to use a camera with a resolution of at least 1,280×720 pixels to ensure good image quality. Always use a headset or Lavalier microphone, so your audio quality is as good as possible. And of course, be sure to test your technology well in advance, to make sure each of the components is working well together. For example, you may find that your beard or shirt collar creates interference with your headset microphone, and by giving yourself enough time to prepare, you'll be able to take care of any issues before the big day.
Should you find that some of your technology is lacking, don't hesitate to reach out to the event organizer well in advance. It is in their interest that your presentation goes as smoothly as possible, so they might be able to lend you the right camera or a hotspot for a better internet connection.
3- Choose a presentation location that limits distractions
As a speaker, your background is your stage! So you'll want to ensure you make the most of your position and limit elements that may distract your viewers. For instance, you will want to ensure you have a neutral background behind you and that you are able to position yourself in the center of the picture. You should try to make sure the camera position is level with your eyes so that it's not tipped up or down, where it could be perceived as looking down on your audience!
Similarly, you will want to limit any distractions or interference in your audio as well. Noises such as traffic sounds or dogs barking can be distracting for your audience and may ensure your presentation is memorable for all the wrong reasons.
To ensure optimal lighting conditions for your presentation, make sure that there is enough natural light in your room. However, avoid direct sunlight on your face or on the walls behind you. Ideally, the light should come from the side. Windows can have a big impact on video quality, especially if they are casting harsh light or creating a backlight effect. If the light source is behind you, the different light conditions between the screen and the background will cause a lot of strain on your eyes and your audience will not be able to see you well.
We should mention here about virtual backgrounds. These have come a long way since the early years of the pandemic, but they might not always be the right choice. Ask the conference organizer in advance if they have a virtual background for all speakers to use, or if they have a preference for using one. Using a consistent virtual background for all online speakers is a nice way for organizers to create cohesion in their event, so they may request you to use one. If the conference organizer is not using a consistent virtual backdrop, we would encourage you to not use one, despite how compelling they are, preferring a neutral location to give an authentic feeling to your presentation.
4- Don't underestimate the importance of timing in your online presentation
Timing is integrally important in an online event. Arrive to your speaking slot well in advance, and check in with the organizer to see if the event is running on time. Whatever you do, make sure you start your online presentation on time. Your attendees in front of their screens are more impatient than attendees attending a physical event. That's because they don't have the opportunity to interact with the people sitting next to them over a cup of coffee if you're running late.
5- The right body language is crucial during your presenation
Don't be put off by the challenge of not being able to "read the room" or feel the atmosphere of a live crowd. Look directly into the camera to give your audience the impression that you are looking them in the eye. This also gives you the opportunity to establish some closeness to the participants despite the physical distance. Position the camera lens at eye level, e.g. on a laptop stand or similar, in order to adjust your webcam to the optimal height. If possible, try to give your presentation standing up, as this allows you to speak and move more freely. Use gestures to accompany your key concepts and draw your viewers in.
6- Be confident and use distance to your advantage!
Enthusiasm for the content you are delivering comes across easily no matter what format it is presented, either in person or online. Bring this enthusiasm and excitement for your talk with you, no matter how you deliver it. A missing audience can make you unsure whether your presentation will be well received, since you cannot immediately perceive the reactions of your audience, e.g. in the form of applause. Do not let this unsettle you! If you are excited about what you have to say, let it drive you and be what your audience takes away from your talk. Even if your audience is not in the same room as you, they can sense if you are unsure or not comfortable with the digital format. Try to appear as confident as you would at a physical event. This way, you can also make sure that your participants stay attentive longer, as they will enjoy listening to you more.
The Bottom Line
Giving a talk or presentation at a digital event doesn't have to be a challenge. With a little preparation and these 6 tips, you can avoid common mistakes and wow your attendees with a great performance.
Simply checking your camera and microphone before you start can greatly improve the quality of your digital presentation. So don't underestimate the importance of good preparation. Even if you're not used to speaking at digital events, neither the quality nor the enjoyment should suffer.
With a few simple steps, it's possible to give your audience as great a talk as you would at a physical event. Try it, and you'll find that giving a digital talk doesn't have to be as complicated as you might have thought.
If you're looking for more great content and tips, don't miss the PIRATEx Event Resources Hub. Here you'll find a free collection that includes some of the interesting resources and content for creating incredible experiences that we've found and found most useful.
Geschrieben von:
Miriam Limbach
PIRATEx Communication Manager