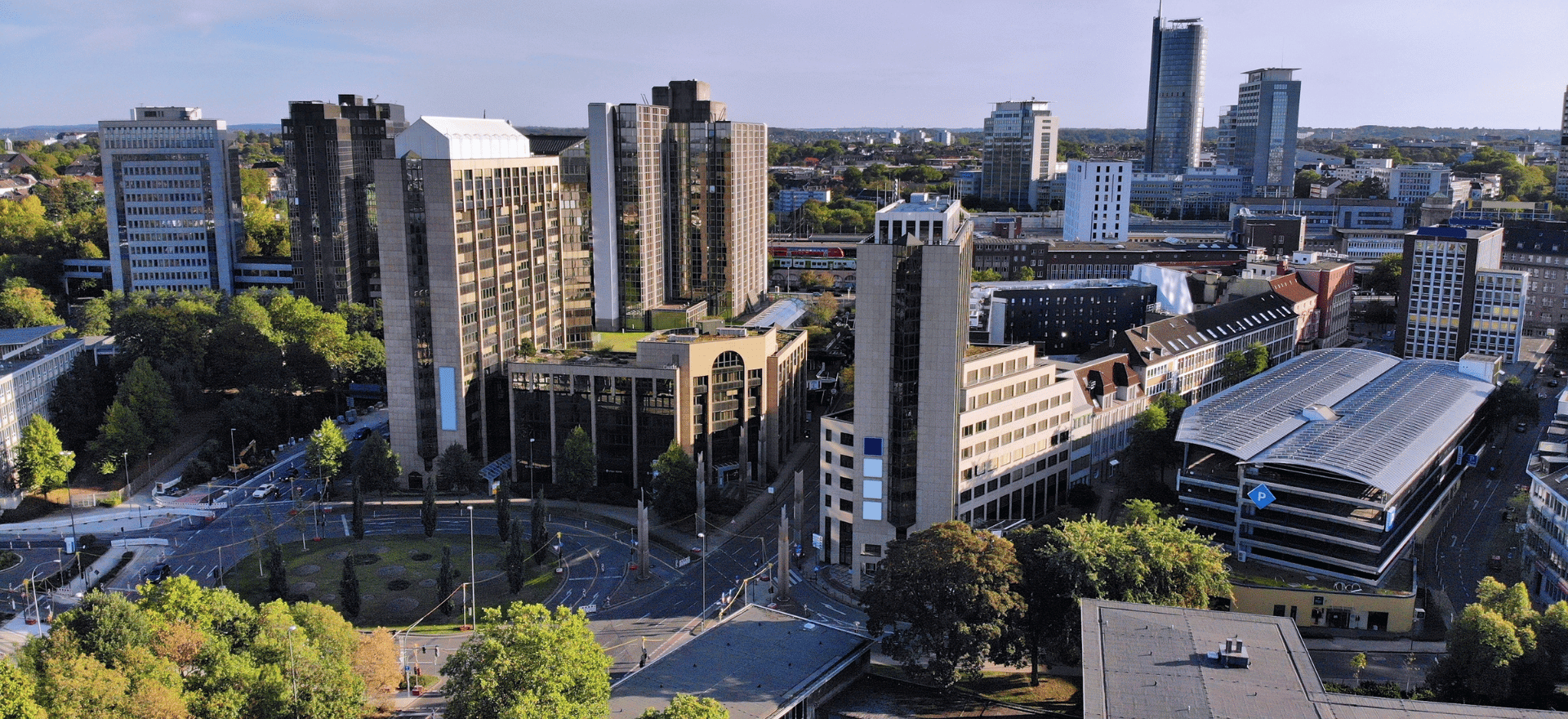 10 Exciting Event Locations in Essen
The city of Essen might not be the first one you think of when it comes to North Rhine-Westphalia, but this city is truly a hidden gem. While lesser known than its larger regional neighbors, Cologne, Düsseldorf and Dortmund, Essen has much to offer, especially when it comes to venues and prominent event locations. Located in the middle of the Ruhr area, it is home to just under 600,000 inhabitants and is known for its lively university, vibrant trade fairs, diverse shopping and protected nature. Historically a center for mining, the city of Essen has grown and reinvented itself into a modern business and service location, with flourishing companies and strong growth. 
While the city may be best known for its industrial history, the economic powerhouse of the Ruhr is filled with magical and creative spaces for events of all types and sizes. Here, you'll find compelling destinations that can transport your guests to 1960s USA (Gapp's Event location and Slotcar Bar), back in time as guests of royalty (Schloss Hugenpoet), or fully embrace the coal mining heritage at one of the world's most distinctive UNESCO World Heritage Sites (Grand Hall Zollverein). In between, you'll find special venues including a grand hunting lodge, an acoustic palace of warm wood and bright sounds, and elegant hotels that can cater to your guest's every gastronomic and technical need. 
Essen might be overlooked by some of the larger and more noticeable cities in the Ruhr valley, however, it should not be counted out. In this town, there is truly something for everyone!
Here, we've put together 10 exciting choices when it comes to event venues in Essen that you might want to consider for your next event.
1. Grand Hall ZOLLVEREIN
There is almost no grander setting for a unique event than a UNESCO World Heritage Site and the Grand Hall Zollverein brings an unparalleled setting to your next gathering. The Grand Hall is based in the heart of the former Zollverein Coal Mine Industrial Complex, bringing an industrial feel in an original building, with heavy machinery and historical presence. The massive state-of-the-art venue in Essen provides more than 4,000 sqm of event space divided across multiple levels. 
The venue provides multiple opportunities for events, from roadshows to sit down dinners to concerts and exhibition spaces. The wider complex provides a compelling venue to explore, mingle and take in an atmosphere that is unlike anything else. Here, you'll find sweeping high ceilings, surrounded by industrial concrete pillars that you can bring to life with creative lighting and atmosphere. The venue offers multiple options for both day and evening events, and modern facilities that can host up to 2,500 participants.
2. Event Zeche Essen
The Event Zeche Essen is another venue that is fitting for Essen's place as an anchor point on the European Route of Industrial heritage. If you're looking for a more intimate venue for your event, the industrial space features soaring ceilings, exposed brick and modern accents. The space holds opportunities for corporate and internal events with an authentic feel, accommodating up to 250 guests. The space was retrofitted with modern events in mind, providing many opportunities for overhead lighting to create highlights for product launches, artistic performances and networking opportunities. Company parties and internal events have the chance to shine in a venue where companies can put their own touch with creative branding and atmospheric accents. 
3. Jagdhaus Schellenberg
Make your event feel on top of the world at the Jagdhaus Schellenberg, an exclusive venue that combines the best of the traditional and the modern. You'll find the half-timbered, half-modern glass venue at the top of the Stadtwald in the heart of the Schellenberg Forest, overlooking the Baldeneysee river. The venue is found within the property of the nearby Schloss Schellenberg and offers multiple venue spaces for your guests. 
Delight your participants in the light-filled conservatory, with soaring ceilings, and full glass walls that allow nature to provide a fitting backdrop to your corporate gathering. Alternatively, you may situate your event in the traditional and rustic drawing room, found in the half-timbered heart of the venue dating back to the 1800s. The varied spaces offer characterful locations for gathering, networking, and connecting– and dining, of course. The venue has its own kitchen and restaurant on site, which can be used exclusively for up to 160 guests. 
4. Weststadthalle Essen
The Weststadthalle is one of Essen's largest and most flexible event spaces. The venue has opportunities for hosting up to 1,050 people in their large room and offers a number of seating options to create just the right space for your event. A wide variety of event formats are possible, given the amount of space and technology opportunities at this venue. As a regular concert and performing arts space, the Weststadthalle offers some of the highest technology specifications, providing organizers countless opportunities for developing the event of their dreams. The venue has a commitment to the environment and utilizing sustainable solutions whenever possible. The location supports the "Viva con Agua" initiative, that promotes clean drinking water around the world. Weststadthalle sells its own branded water, which supports the "Viva con Aqua" initiative whenever it is purchased on site.
5. Atlantic Congress Hotel Essen, Cuxx Restaurant, Bistro, Cigar Lounge 
The Atlantic Congress Hotel, located in the heart of Essen, offers something for nearly every visitor to the city. The venue has multiple spaces for event organizers to host gatherings and activities, a particularly convenient option if your guests are staying on-site. The hotel has the opportunity to host your participants in many different event spaces depending on your need. 
The on-site conference center can host up to 600 persons, in 9 modern rooms, with small breakout sessions available in the luxurious Atlantic Boardroom, business suites, terraces, or special innovation lounge. Up to 200 can be accommodated on the rooftop terrace, offering a bird's eye view of the Ruhr cityscape, with multiple meeting packages available. When it comes to dining and meeting space, you have your choice of the innovative Cuxx Restaurant and Bistro, the luxurious Zino Platinum Cigar Lounge, Atlantic Summer terrace and elegant Vinotheque, to name just a few. The venue is proudly a "sustainable venue" by Atmosfair, offering additional peace of mind for your guests and visitors.
6. Gapp's Event location and Slotcar Bar
A venue, that we must admit, is unlike anything else we've seen– and something your guests won't soon forget! Gapp's Event Location and Slotcar bar brings a taste of 1960s America diner atmosphere to your next event, with over 30 meters of slot car tracks on site. The interior racetrack provides a considerable "wow" factor, bringing your guests together and presenting a bit of fun and childhood memories. Upstairs, the conference room and grand hall have a unique character and provide considerable ambiance to all sorts of B2B events. The venue can be rented out exclusively, creating an intimate atmosphere for your participants. Guests can challenge each other to a slot car race or unwind in the venue's huge loft area, which can accommodate up to 150 people.
7. Philharmonie Essen Conference Center Theater Essen – Alfried Krupp Saal 
Absolutely wow your guests in the palatial setting of Essen's Alfried Krupp Saal. The philharmonic arts venue has room for a precise 1,906 visitors under its soaring ceilings warmed in light colored woods, bringing a natural, comfortable and down to earth feel despite the prestigious setting. The space is overseen by an important and always present guest, the Kuhn organ, one of the world's most impressive acoustic instruments, whose 4502 pipes provide not only a visual grounding of the space, but also an audible one– with tones of up to 60 registers.
The hall makes the most of its acoustic design, with modern touches that give visitors the best audio experience no matter their position inside– no seating arrangement compromises the audio experience. The venue has multiple versatile uses beyond the arts however, presenting a grand space that is flexible to accommodate lots of different types of events, from product launches, to exhibitions, to elegant dinner settings. 
Situated alongside the expansive Alfried Krupp Saal, the RWE pavilion provides a more intimate space for your guests in no less of a grand setting. Comprised entirely of architectural glass feature, the RWE pavilion puts your event inside a jewel box. Here, you'll find a number of different spaces and possibilities for all types of events, with a stunning setting that brings a cultural and artistic feel to any corporate gathering.
8. Event location Oefter Wald 
Truly get away from it all with up to 150 guests off the beaten path. The Oefter Wald venue makes the most of the Ruhr Valley's lush nature and green space. Featuring a 210m² event space spread over 3 adjoining rooms with an expansive garden space, event organizers are able to develop a multitude of unique concepts. With no fixed service providers, organizers can completely cater the space according to their wishes. The event venue offers a rustic, half-timbered space, perfectly situated in a rural location. But don't let the rustic setting put you off, the venue highlights its modern sanitary facilities, so your participants will never be spared modern conveniences. 
9. La Victoria Eventhalle
Looking for a historic venue with maximum space for entertaining? Look no further than La Victoria Eventhalle providing over 1,200 sq meters of event space and capacity for up to 1,200 guests. The elegant venue specializes in weddings and corporate events, with a luxurious touch.  
Situated at the edge of the former Auguste Viktoria mine shaft, the colliery provides an industrial backdrop to the elegant venue, itself an exercise in contrasts. The event location can take care of all the details for your event, with catering, decor, entertainment, and many other options at your fingertips thanks to the professional event staff.
9. Schlosshotel Hugenpoet
Create a magical experience for your event guests by bringing them to the fairytale castle Schloss Hugenpoet. Conveniently located on the outskirts of Essen, the elegant castle is surrounded by a moat and extensive gardens. With 8 different halls and event spaces on site, the event venue boasts modern technologies for sophisticated business events of all kinds. The castle also has 36 rooms on site, should you wish to keep your event guests nearby. 
The event rooms truly give your event participants the full experience of the historic venue, with richly decorated rooms, furnished with oil paintings and glittering chandeliers. Expansive stone fireplaces create a sense of intimacy and warmth, with large windows of the castle gardens providing a truly palatial space for your event experience. 
The Bottom Line
As you can see, there are multiple fantastic event locations in Essen. Hopefully, you'll find the one you need in those we listed. If you're looking for more event venues across NRW, we also have a great blog article for you.  
We also gathered some event venues in other cities across NRW, such as Dortmund or Düsseldorf.
If you need some support to organize your next event, don't hesitate to get in touch with us. We'd be happy to help you out!
Written by:
Miriam Limbach
PIRATEx Sales and New Business Manager