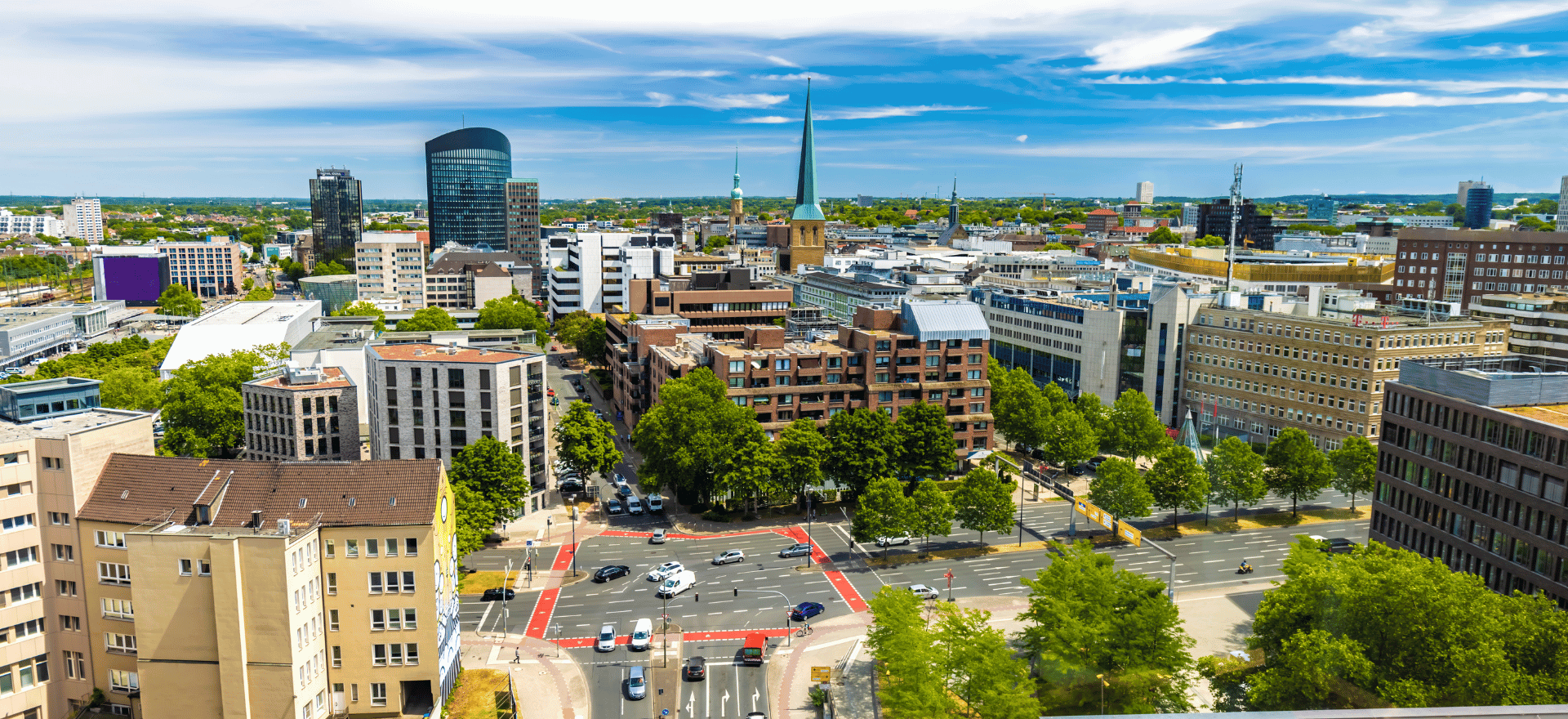 Don't Miss These 9 Amazing Event Locations in Dortmund
Dortmund is a bustling city nestled in the heart of Germany's North Rhine-Westphalia region. With a rich history dating back to the medieval era, Dortmund has evolved into a modern metropolis renowned for its industrial heritage, vibrant cultural scene, and exceptional quality of life. Once a major center for coal and steel production, Dortmund today is a hub for innovation and technology, attracting businesses and individuals from all over the world. Germany's 8th largest city is home to numerous universities, museums, theaters, and sports teams, making it a perfect place to find an event location in for your next event.
Dortmund is a vibrant and dynamic city, offering numerous opportunities for hosting successful events. It is located in the heart of Germany and boasts excellent transportation connections, including the country's third-largest airport. The city's rich cultural heritage and bustling nightlife provide an excellent variety of bars, restaurants, and entertainment venues to choose from. Here, you'll find modern and state-of-the-art event facilities, such as the Westfalenhallen Exhibition Centre, which can accommodate large-scale events of up to 20,000 people. Additionally, the city is surrounded by beautiful parks and green spaces, providing ample opportunities for outdoor events. Overall, Dortmund is a great choice for organizing an event due to its convenient location, cultural offerings, modern infrastructure, and scenic surroundings.

In this blog article, we've gathered 9 of the most interesting event locations in Dortmund.
1. Dortmunder U
The Dortmunder U merges the charm of historic buildings with modern interior design to create a unique event location that will amaze your guests. Built in 1926, this former brewery boasts 13 event rooms and settings, to accommodate a wide range of event opportunities. 
Whether you're looking for an event venue to host a 30-person gathering or to gather 1400 persons for a corporate event, you'll be sure to find a room to fit your needs at this exceptional event location. If you're not sure which of Dortmunder U's many event rooms to choose from, we've picked 5 favorites:
the roof terrace, offering an amazing view of Dortmund's skyline

The BRAUTURM, with its unique dome ceiling and amazing glass panels

The MOOG, a versatile room that merges Bistro and cocktail bar, which also can be used for workshops and product presentations

The EMIL restaurant, perfect for company dinners with soaring vaulted ceilings

The FZW Halle, an expansive space offering an exquisite setting for music events or conferences
2. Signal Iduna Park
It's impossible to talk about Dortmund without mentioning the city's renowned football team. Borussia Dortmund is Germany's second-largest sports club, but their enthusiastic following is without equal– the team's fans have the highest average game-day attendance of any association football club in the world. Where better to site your event than at the location where this special team and their fans call home? The Signal Iduna Park is a place that you simply can't overlook. 
If you're looking for an event venue that will immerse your guests in the unique BVB Schwarzgelbe football experience, you'll find that the team's stadium is the best way to do so. The venue offers 6 rooms for your events with a capacity ranging from an intimate 10 to over 120 persons: the TV-Loge, the HANKOOK-Loge, the WEISSE WIESE I + II, the EVONIK Stammtisch 3, the ZUMTOBEL GROUP Lounge as well as the BORUSSIA PARK. 
And if you really want to make your event at the Signal Iduna Park unique, don't hesitate to book a stadium tour to end your event on a very special note!
3. Phoenix des lumières
Are you looking for an event venue to immerse your guests in your universe – and we mean that quite literally! The Phoenix des Lumières is an event location in Dortmund that will be sure to impress your guests and make your event stay in their memories for a long time.
The Phoenix des Lumières is a museum specializing in digital exhibitions, delighting visitors by bringing them inside stunning artistic masterpieces thanks to projection and sound technology.
If you're looking for a unique place for a small networking gathering, the venue offers breakfast and after-work parties, during which your guests can enjoy the current art exhibitions. Alternatively, you can also invite up to 1500 for a unique gala, conference, or product presentation. For larger events, you can use the projection system to immerse your guests in your own brand universe or any unique setting you choose.
4. Westfalenpark
The Westfalenpark is one of Europe's largest inner city parks and home to some of the city's most vibrant events. At over 170 acres, it is a "green oasis" among the city and the surrounding area. As the previous host of Germany's Bundesgartenschau, the park contains a number of botanical treasures, including the German Rosarium, boasting over 3,000 varieties of roses.
Today, the Westfalenpark is a popular spot for picnics and walks, and its expansive grounds provide an ideal setting for larger gatherings. Thanks to its stage locations and various meadow areas, the Westfalenpark provides a perfect venue for outdoor events. There are three main areas to host your event: the Meadows Ruhrallee, the Festival Meadow, or the Lake Stage. Here you are not limited by space. Depending on the event location you choose, organizers can host events with up to 15,000 participants. Another bonus feature of Westfalenpark is its proximity to Signal Iduna Park, offering a number of convenient travel options for your participants.
5. Speisekammer Dortmund
Are you looking for a venue to host a corporate dinner in a unique, rustic setting? Then the Speisekammer Dortmund may be just the ideal event location for your next event. Located in Dortmund-Deusen, this traditional farmhouse brings an authentic atmosphere to any corporate dinner or networking event. Your guests will feel right at home in this unique setting, thanks to the local specialties on the menu and comfortably furnished with wooden tables, leather armchairs, and candles. 
Speisekammer Dortmund's warm surroundings make it a romantic option for a wedding venue, but this event location is also versatile for corporate events. The Speisekammer has a projection area, which makes it perfect for presentation before or after dinner. 
6. Lensing-Carrée Conference Center
Not too far from the previously mentioned Dortmunder U and right next to the elegant Thier-Galerie shopping mall, the Lensing-Carrée Conference Center is an expansive and modern event location in Dortmund. Whether you're looking for an event space for seminars, conferences, or presentations, the LCC has much to offer for many types of events. 
Boasting the most modern technology and a full-service event team on staff, the LCC offers over 300m2 of event space. Whether it is hosting a conference in the expansive Lambert Lensing room, or engaging a small workshop in one of the two seminar rooms, the onsite staff are able to accommodate any organizer request. The LCC's foyer provides a great space for your attendees to enjoy a flying buffet or networking hour, or provide your participants with an exceptional view of the city from the rooftop terrace, the choice is yours at this special venue.
7. Warsteiner Music Hall
The multifunctional Warsteiner Music Hall is located in Dortmund's Hörde district. The versatile event location is also known as the "Phoenixhalle", and was originally built in 1905 as a gas blower hall. It offers an industrial setting for private, social, and business events for up to 3,600 guests.
The historic setting has undergone a comprehensive renovation and is equipped with state-of-the-art technical infrastructure and two extensions to suit a variety of event formats. Offering "rough charm" and "industrial culture", this event location frequently plays host to traveling concerts and shows, but the venue's rooms can be adapted to a variety of settings, including banquets and product presentations. Organizers are free to use the venue's on-site event production staff or bring in their own suppliers.
Soon to come to Warsteiner Music Hall is a newly planned garden, to accommodate all types of outdoor events. Warsteiner Music Hall offers flexible and creative opportunities for organizers, with excellent transport connections and ample parking, ensuring that this is one event location in Dortmund that you will certainly want to consider for all your guests.
8. Westfalenhallen Exhibition Centre
If you are looking for a venue with serious space for your next trade fair, Messe Westfalenhallen Dortmund should certainly be at the top of your list. The Westfalenhallen Exhibition Centre is one of Germany's best-known trade fair venues and is the regal setting for 60 world and national exhibitions each year, including the BOE INTERNATIONAL, CREATIVA and INTERMODELLBAU shows.

The nine halls of the Westfalenhallen Exhibition Centre complex provide a total area of about 60,000 square meters. On-site, every event need can be accommodated thanks to the latest technology, a 4-star business hotel directly adjacent to the venue, multiple restaurants on-site, and the opportunity to cater meals for 10,000 guests or more.
9. Eventschiff Herr Walter
Are you looking to take your event offshore, without actually leaving port? Then the "Herr Walter" is the perfect event venue for you. This converted cargo ship set anchor in Dortmund in 2011 and has since become a popular event venue and club. It's an offbeat and memorable location for company celebrations.

With its maritime ambiance, guests can enjoy the onboard experience or relax on the sandy beach of the mooring, with its own pool and plentiful deckchairs. This casual and relaxed venue can accommodate up to 800 guests depending on the set-up. You'll also find full catering from the ship's galley or beachside "Country Caboose" suitable to transport your guests on a maritime holiday.  
The Bottom Line
The list of our favorite event locations in Dortmund comes to an end. But don't fear, we have more event venue to recommend if those aren't enough.In previous articles, we talked about 50 different event venues in NRW, as well as present 10 event locations in Essen and 10 more in Düsseldorf.
If you need some support to organize your next event, don't hesitate to get in touch with us. We'd be happy to help you out!
Written by:
Clélia Morlot
PIRATEx Digital Marketing Manager