Lessons from Samsung & Delta Variant vs Trade Fairs
For event nerds, some of the most important events we looked forward to were the yearly launch events by those big tech brands– Apple, Google, Microsoft… Alongside the products they present, these events showcase some of the latest innovations in event design and production. As the tech launches successfully moved online, the high production value and experience they create via Livestream continue to encourage event professionals to bring a similar, cutting-edge experience to their own events and trade fairs.
This week's Samsung Unpacked was no exception. There were a few things about their event that stood out– and that I think event professionals everywhere can take away from:
Constant movement

. The pre-recorded livestream was just over an hour long, divided into segments for each product launch. But very few frames included someone speaking directly to the camera. Visuals were in constant motion, changing frames, camera angles, scenery, and views. With the constant movement, what comes next is entirely unexpected and hard for your audience to look away from.

Don't slack with your video, more can certainly be better when it comes to keeping your at-home audience engaged.

The personal touch

. No professional actors or moderators here! The entire production was hosted by a varying array of Samsung's staff, with different ethnicities, accents and geographies presenting each product. The result is a delivery that is not always the most polished, but one that brings a human sense to the product and the presentation. You get to see part of the team behind the product– making the sleek tech on display seem more human while creating empathy and connection.

Don't forget– the human connection is the most part of any event!

The big draw

. Samsung is known for their collaboration with BTS, the Korean supergroup, who of course they featured in the livestream. BTS member Suga produced a new original song for the spot, guaranteeing attention for the live show from a wide audience– far beyond those who were coming to check out the new phones. I

f you have a big name to showcase, use them!

COVID – 19 measures

. A nice touch at the beginning and the end of the show transparently detailed how the production adhered to local coronavirus regulations.

Add how you're complying with regulations to your event too.
If you're interested in learning more about how to optimize the use of video in your productions, and to unlock its real potential, Phil Liblin [CEO and co-founder of mmhmm and All Turtles, ex Evernote] is speaking at PIRATE Live later this month all about video. His keynote, titled "The Communication Superpower" explores how video can be incorporated to radically change how we work and connect with one another. Phil is an impressive speaker and the brief for this talk is right on point. Video is an integral part of events, and the Samsung experience shows that there is so much more we can do here. 
You can take in Phil's talk Tuesday, August 31st at PIRATE Live by picking up a free ticket here. See you there!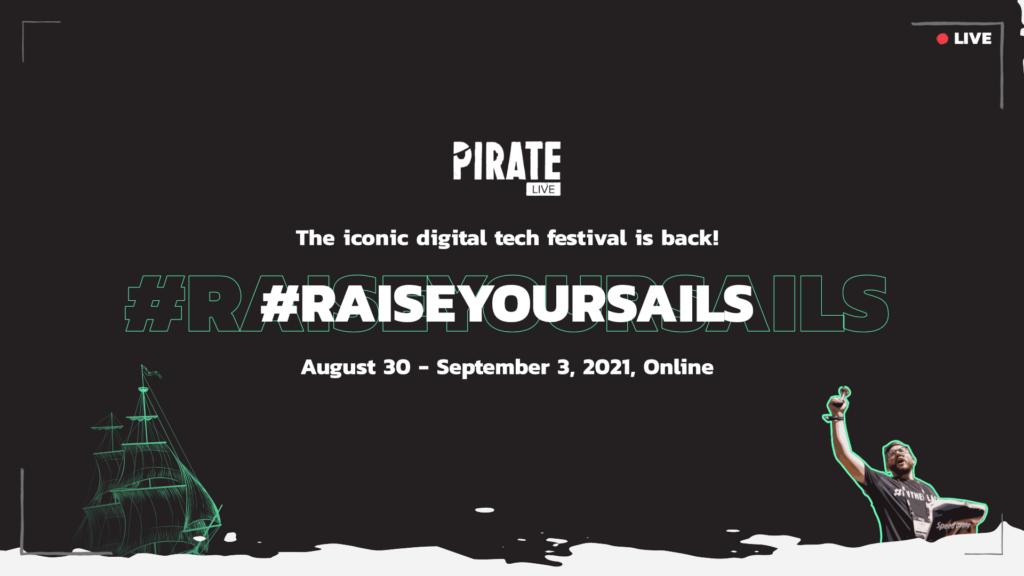 The Industry:
How to do it:
Don't Miss it:
Closing thoughts
That's all for this week's edition of The Lookout! 
ICYMI: You can pick up the PIRATEx free guide, "Exhibiting with Excellence" for exhibitors attending this fall's online and hybrid trade fairs. You'll find it for free, here. 
Next week, PIRATEx is producing an event for our logistics community A2X. The event concerns all the ins and outs of sustainable logistics. If it sounds interesting, check it out here.
Let's stay connected if we're not already on Linkedin or follow the PIRATEx team on Twitter. If there's anything you would like to read about when it comes to remote, or digital events, let me know! I'd love to hear your comments and suggestions.
If you know someone who might be interested in reading The Lookout, please share it with them! 
Until next Friday!
The Lookout Newsletter #37
Written by:
Felix Josephi
PIRATEx Managing Director