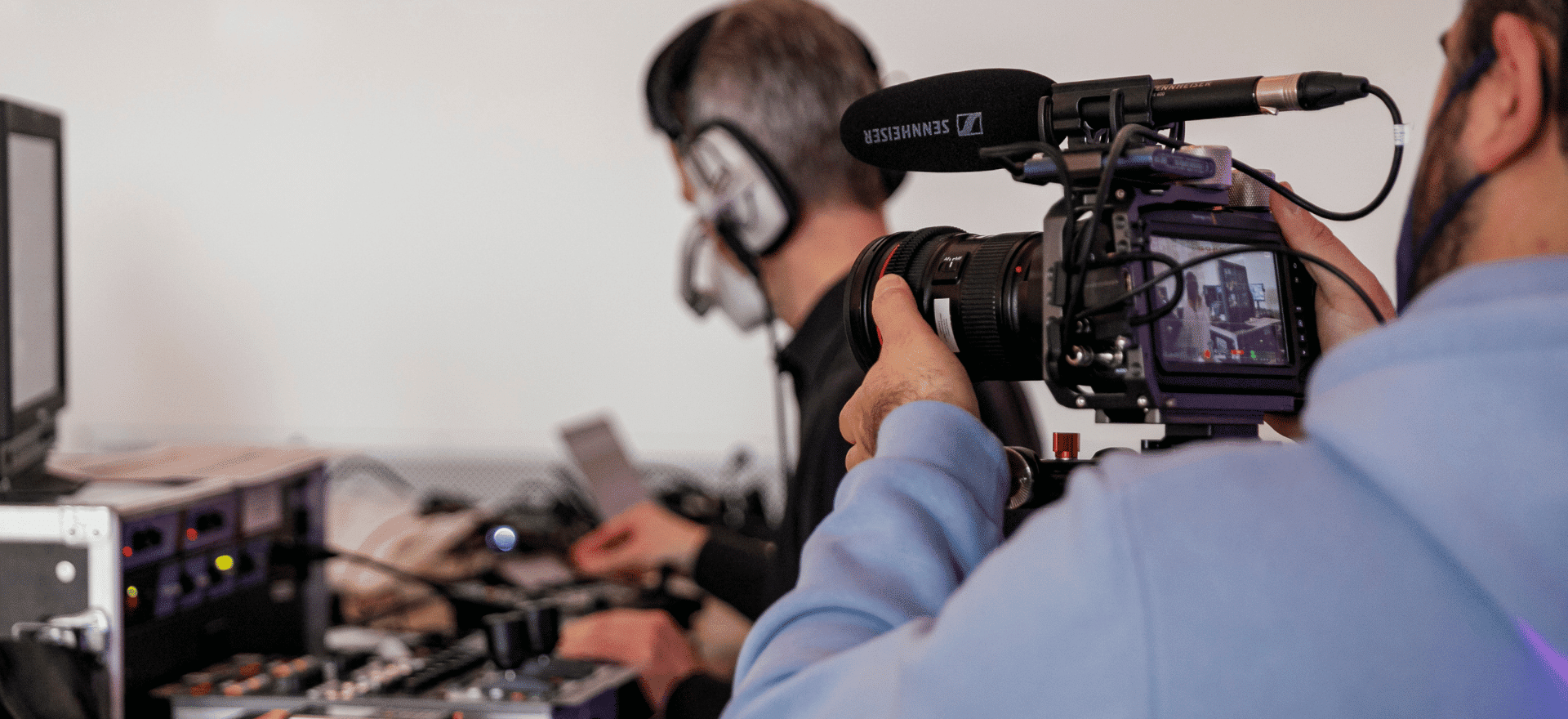 It's 2023: Time to Get Phygital!
January is an exciting time. New beginnings and a new start for many. We are eagerly anticipating the upcoming spring season of events with planning well underway. For us– there's one big word that seems to characterize the experiences we're building in 2023: phygital.
A portmanteau of physical + digital = phygital refers to events largely on-location that are enhanced with digital elements. Hybrid, as we discussed last time, has just not had its moment yet. But phygital – bringing digital into the physical event space is more than ready to shine. And thankfully, the event technology is more exciting than ever.
For phygital events, some of the most exciting elements are sensor technology that can adapt an attendee's experience unique to them as they navigate your event space. This was used to an expert degree in the German pavilion at the 2020 World Expo – where the space and experience changed based on a user's pre-determined preferences. Another great use of the digital and physical is seen in this installation by artist Rafael Lozano-Hemmer where the lighting in the exhibit pulsed in tune with the attendee's heartbeats. Talk about an immersive experience. Other artists have been using digital to craft unique experiences for visitors that put attendees inside the art itself. And that's precisely the reason why the possibilities of phygital events are so cool – they make the experience larger than life– and uniquely memorable. Immersive events with a bit of digital magic– that's what I'm looking forward to in 2023.
But there are a lot more exciting opportunities for phygital experiences that are on the more practical side. For example, smart badge technology that helps facilitate better networking, or that assists with event space navigation. Smart wearables are nothing new, but the sophistication of these products is much more than it used to be. It extends to analytics too – just as events need to be driven by value – sensor technology helps organizers better understand how visitors engage with their events, analyzing footfall traffic and user engagement. There's so much potential here that organizers can unlock with these technologies.
What's your take on phygital events? Do you think it will take off in 2023? Are you planning to incorporate any of these digital technologies into your upcoming events? I'd love to hear about it!
Here's what I've been catching up on:
The Events Industry
Conference News
Agiito to offer wellbeing hub solution for events
The return to live and physical events has not been an easy transition for everyone. Here, social enterprise EventWell and event agency Agiito found an opening for "wellbeing hubs" at events to provide a gentle escape from the sensory environment of a conference or event. Citing mental health statistics that suggest that delegates could benefit from a diversion from the overwhelming atmosphere of the event space, EventWell's wellbeing hubs come with trained mental health first aiders to safeguard users and provide support.
Trade Show News
Attendees and Exhibitors Can Expect a More Touchless Venue Experience at CES 2023
In order to create a more healthy and open environment at this year's CES, organizers have implemented a largely touchless event, where airflow is maximized and hand sanitizing stations are found in all attendee areas. Participants can expect touchless badge printing, registrations and cashless payment systems as CES becomes the largest in-person business event to take place in the US since the Covid-19 pandemic in early 2020.
Digital Event Technologies
TechCrunch
Read, which lets you measure how well a meeting is going, is now a Zoom Essential App
Knowing if your audience is engaged during your virtual meetings is no longer a mystery. Read, a startup that lets meeting organizers "read" the virtual room has now joined Zoom's suite of premium tools for business users. The app uses sentiment analysis to produce meeting summaries that are annotated with engagement scores and playback features.
Interesting Engingeering
Skip Zoom? Holographic tech allows you to 'beam' into your next meeting
This week's CES is presenting a full suite of tech products designed to make events and gatherings more innovative than ever before. For example, Proto M, a hologram device that allows you to beam yourself virtually into any space– as long as you fit inside Proto's 7ft tall box. The company is looking at medical applications, but this could be the next step for virtual keynotes allowing any speaker to come onstage, virtually from anywhere.
TechCrunch
With Kokomo VR meeting software, Canon takes a step away from its hardware roots
Another exciting CES announcement that lets anyone join a meeting in VR, in real-time. Using a VR headset and a smartphone, you are able to virtually present yourself to anyone using a brief capture process.
Exhibition News
SaaS platform unifying exhibition MarTech
QHost is an end-to-end SaaS product that streamlines management for exhibition providers– before, during and after the event. Rather than having to deal with multiple providers, this solution aims to be a helping hand by bringing all the technology into one complete product.
How to do it
Conference News
How to maximise your speaker lineup
As events have returned in person, there's one thing organizers want to be clear to avoid: delegate fatigue. One way to prevent this is to shake up your speaker lineup, and your stage setup. A top tip? Lose minimal spaces, and increase comfort for speakers and panelists, encouraging a more familiar atmosphere.
Don't miss it
Exhibition News
No excuse for exhibitions industry not tackling diversity
The exhibitions and events industry has work to do when it comes to improving diversity. There's much more that can be done to ensure that our upcoming events showcase a wider variety of voices and experiences and that the industry champions a more diverse workforce too. Here's what we can do to be part of the solution.
Forbes
Associations And Trade Shows Will Be Hurt By The Recession
While many are looking forward positively to 2023, economists predicting an upcoming recession are thinking a bit differently. Should an economic recession come to pass, it will have a difficult impact on the association and trade show industry, one that has just recovered mightily since the pandemic. For organizers, it's important to plan accordingly.
Event Partner
Kommentar zum Labor Tempelhof: Plötzlich Versuchskaninchen?
Creating a completely sustainable event that is entirely recyclable, low impact, and zero waste is a worthy ambition. But in practice, it's much more difficult, as the recent Tempelhof Laboratory project has sought to produce. The project, first consisting of a concert series has sought to be a beacon for "C2C" ie "Cradle to Cradle" events, that aim to build sustainable solutions for the events of the future. Here's a look inside.
Closing thoughts
That's it for this week's edition of The Lookout!
If you know someone who might be interested in reading The Lookout, please share it with them!
The Lookout Newsletter #74
Written by:
Felix Josephi
PIRATEx Managing Director