Help Your Events Have a Lighter Impact on the Environment
Every year since 1970 April 22nd has been recognized as Earth Day. It's a date that for some is unfortunately easily passed over, given all of the other commitments and pressures that we all face. It's understandable– the scale of the climate emergency is staggering.  But in this monumental effort, we are all in this together. For the last few years, PIRATEx has been proud to take part in the Time for Climate Action campaign, which has sought to highlight small actions each of us can take to make a positive impact on the environment. Each small action can make a significant difference.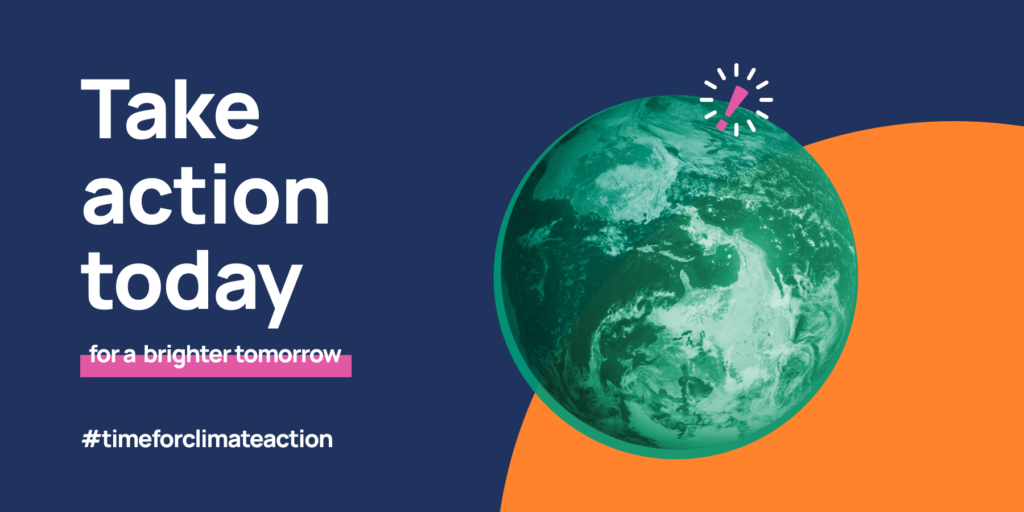 And these small climate-positive actions can be applied to events as well! 
At PIRATEx, a commitment to sustainability and the goal of making a lighter impact on the environment have been key rationales for why we've worked so hard at developing our digital events expertise. It's no secret how much of an environmental impact is made by hosting many types of events, but thankfully digital and hybrid events solutions can help to alleviate it. But that doesn't mean you have to turn all your physical events into digital ones. There are lots of things that organizers can do to ensure their events make a lighter impact. We've compiled some of our favorite ones in a new free PIRATEx guide, 71 ways to reduce your event's impact. You can download the guide, and also access our library of resources on low-impact events at our new Sustainable Events Resources page for lots more tips, advice and organizational support on making a lighter impact with your events! I hope you will find those resources useful as you prepare your upcoming events. Do let me know what you think!
Also, if you happen to know any great event companies in Germany that have a particular commitment to the environment and sustainability, whether they be booth builders, technical providers or event venues– please let me know by replying to this mail. We're working on something special to recognize those providers that are making a difference in helping produce net-zero events.
Here's what I've been catching up on this week:
The Event Industry:
isla launches carbon measurement platform, TRACE

[Conference News] Sustainability body isla has just launched TRACE, a new carbon measurement platform for the events industry. TRACE aims to help event organizers transition ot net-zero emissions and better understand the impact of their events on climate change. TRACE joins several other initiatives put together by the industry and environmental experts, for an overview

see our guide here

. 

FIBO 2022 attendance sees fitness events industry bouncing back

[Leisure Opportunities] Looking at the attendance of FIBO's recent fair in Cologne, you wouldn't have imagined it's been 3 years since the last show. Over 51,000 attendees came together from 109 different countries to take in offerings from about 500 exhibitors. While that number is significantly less than the 1000+ exhibitors FIBO shows have tended to attract in the past, the event's directors hailed the show as a success. Visitor numbers were also down from the highs seen pre-pandemic, which before coronavirus welcomed 150,000+ visitors from 135 countries. 

UFI prepares for Global Exhibition Day celebrations

[Exhibition World] After a few years marked by the pandemic, the UFI is gearing up for a celebratory Exhibition Day on June 1st. The global exhibitions industry group is calling for industry associations to mark the day to highlight the role of exhibitions and foster relationships on the trade show floor.
The trade show's next disruption: not the metaverse, but the digital marketplace
Peeba raises $4.2M to digitize Asia's B2B wholesale market [TechCrunch]
Business must continue even though trade fairs are canceled and delayed. The result for some looks like Peeba, a new marketplace for wholesale producers to find suppliers, and gaining ground quickly in Asia as covid continues to limit the role of trade fairs and industry events.  More and more technology providers are developing solutions that smooth and facilitate the relationships that are traditionally made at face-to-face events and experiences. Wholesale marketplace platforms like Peeba aim to disrupt the trade fair entirely, by providing new distribution channels for suppliers challenged by delayed trade fairs and exhibitions.
Over the course of the pandemic, online wholesale marketplaces have made huge strides in Europe, including Abound, Ankorstore, Creoate, Orderchamp,  and U.S. based juggernaut Faire who's already started their European expansion. Investors have cited the inefficiency of wholesale buying and selling at trade fairs and exhibitions, and have reacted with considerable investment into these new marketplaces. How will the event industry react? More on this next week in The Lookout.
Digital Event Technologies:
Don't miss it:
What does the war in Ukraine mean for the events industry?

[Exhibition News] The war in Ukraine has had wide reverberations far outside the country's borders. The events industry has pulled together in support, but there's an even more significant impact happening on the events industry in particular. Tanya Pinchuk of ExpoPlatform argues that there's more we can do as an industry to support. 

50 Eventlocations in NRW die du unbedingt besuchen solltest!

[PIRATEx] Looking for a great event location closer to home? We've compiled a list of some of our favorites nearby here in NRW. As events return in person, there's no place like NRW to host your next memorable experience. 

EVENT PARTNER verleiht den ZORA AWARD 2022 an alle Steuerzahlenden im Land

[Event Partner] No, it's not a delayed April fools joke, but the industry magazine Event Partner has awarded their somewhat offbeat Event Zora award –usually lauded for the most exciting or impressive event projects — to the German taxpayer for their subsidy of the event industry for the past years of delay due to the coronavirus pandemic. It's not a small feat to award 45million people, and the amount of subsidy provided to the industry remains controversial– criticized by some as too generous and some as not enough. But with the Zora award it is recognized for posterity.
Closing thoughts
That's all for this edition of The Lookout! 
If you've come this far, I'd like to share a new opportunity to win an event strategy workshop with the PIRATEx design and concept team. We're raffling off a workshop where a lucky winner will have the chance to win a free strategy consultation to help you meet your live communication goals. Enter here to win and good luck!
In the meantime, let's stay connected if we're not already on Linkedin or follow the PIRATEx team on Twitter. If there's anything you would like to read about when it comes to online, or digital events, let me know! I'd love to hear your comments and suggestions.
If you know someone who might be interested in reading The Lookout, please share it with them!
The Lookout Newsletter #60
Written by:
Felix Josephi
PIRATEx Managing Director